Xavier Morgan
Chief Executive Officer
NASA

Ronald E. McNair Scholar

Conducted research on nanomaterials and sustainability at both UNLV and Purdue University
NASA

Ronald E. McNair Scholar

Conducted research on nanomaterials and sustainability at both UNLV and Purdue University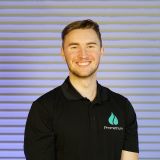 Devon Scheg
Chief Technology Officer
…David is a coauthor of over 30 published conference and journal papers, and 16 patent applications.
…Dr. Blatchley's expertise is in physical and chemical processes as they pertain to environmental engineering, with particular emphasis on engineering applications of ultraviolet (UV) radiation and disinfection processes.
…Daniel is also a member of uk5g innovation network, with 20+ years of operational and leadership experience with both global corporations and pre-IPO startups delivering growth and innovation
…After nearly 15 years in the industry, Kenneth has held positions of increasing responsibility leading to seven successful missions.